Join Us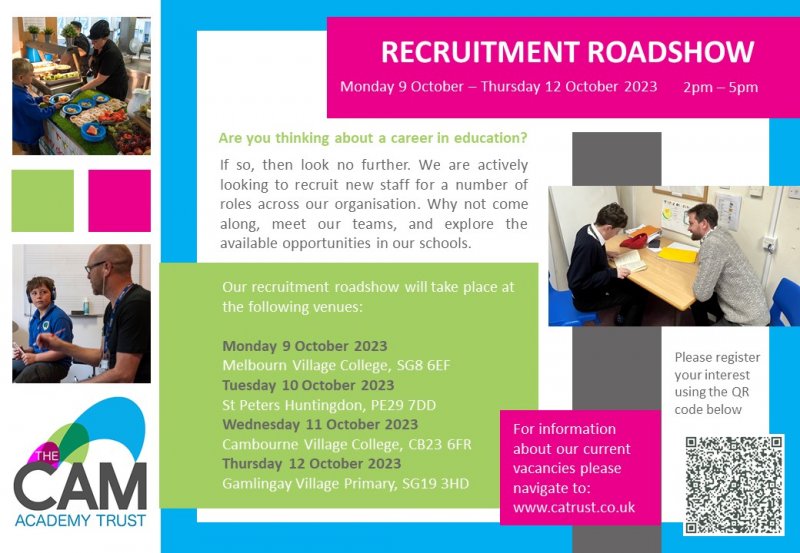 The Cam Academy Trust welcomes inquiries from schools and individuals who are interested in working with us. For further information please look at our Joining CAT, Becoming a Teacher and Vacancies pages linked from the side of this page. Additionally, please do not hesitate to contact us by e-mail by clicking here.
The Trust is committed to remaining local with no desire to become a large chain operating over a wide area. The benefit of working as a strong group of schools is most obviously gained by working closely and effectively in a geographical area that allows staff and pupils to work with each other.
Benefits
We offer the following benefits, designed to promote your wellbeing and make your time with The Cam Academy Trust satisfying and rewarding.
Core benefits
Holiday – Up to 30 days' paid holiday a year plus bank holidays for full time non-teaching staff (statutory leave for teaching staff)
Paid leave – enhanced sick pay, maternity pay and adoption leave pay (linked to service) and paid leave for unforeseen personal situations
Pension – a generous defined benefit pension with the Local Government Pension Scheme or Teachers' Pension Scheme
Death in service payment – lump sum payment and an ongoing pension for your partner & children (subject to conditions & membership of our pension scheme)
Health and wellbeing
Employee counselling and support – free, independent 24/7 help and advice for work-related issues, as well as problems affecting your home life
Wellbeing groups – arrangements may differ from school to school (secondary school staff)
Environment – good working environment with excellent facilities (facilities may differ from school to school)
Professional development
Professional development – full and part-funded training courses and a wide range of learning opportunities available to all staff
Employee discounts
Car parking – free and on-site
Hot drinks – tea & coffee making facilities provided for all staff
Cycle-to-work scheme – save £££ on a new bike and accessories
Subsidised membership to the Chartered College of Teaching (teaching staff)
Work-life balance
Flexible working – all staff can make a request to work flexibly
Teacher cover - We have Cover Supervisors reducing the amount of cover required by teachers and PPA periods are on timetables and not used for cover purposes (school teaching staff)
T
raining, CPD,Teaching School Alliance and Network
Staff Training and Professional Development is absolutely central to all that we seek to do. The core of our vision is to ensure 'Excellence for All': the very best possible education with the highest possible levels of achievement for all of the pupils in all of our schools. Without doubt, the key to this is capable and committed staff working together effectively to provide great education. It is up to us to ensure that all of our staff are able to continue to develop their teaching and wider skills to enable this.
Much of this philosophy intertwines with our work as a Teaching School, Teaching School Alliance and Teaching School Network. Every school that joins The Cam Academy Trust is automatically a member of our Teaching School Alliance, CATSA (Cambridge Area Teaching Schools Alliance). Two of our schools, Comberton Village College and Cambourne Village College, are designated Teaching Schools within that Alliance. However, every single one of our schools is automatically a member of our Teaching School Alliance and has full access to all aspects of it. We encourage every school to engage fully in this, make the most of it and contribute where possible.
We work with a wider Network of Teaching School Alliances in addition to the work within our own Alliance. This enables us to have wider engagement with other Trusts and schools across the key areas of work of Teaching Schools and ensures that we do not become insular in our approach as a Trust. It very much fits with our Partnership Principle. This Cambridge Teaching Schools Network (CTSN), as it is called, involves increasing numbers of Teaching Schools and their Alliances in the Cambridge area and beyond. It is central, for example, to the work of our School-Centred Initial Teacher Training (SCITT) provision that now has more than 100 trainees on its books. Please click here for more information
Key areas of Teaching School Alliance and Network operation
School to School support: school improvement work, primary and secondary phase, carried out by SLEs (Specialist Leaders of Education) in a range of areas from quality of teaching, behaviour management and curriculum design to leadership coaching and school operations. Colleagues with appropriate experience and skills can apply for SLE accreditation by application to CTSN (specifically via Swavesey Village College who oversee this area of operation). This will provide potential career development opportunities through outreach work, opportunities to engage with a wider range of schools and the development of interpersonal skills required through the working with different audiences. CTSN brokers SLEs for school improvement work or they may be deployed by the Trust to support colleagues in its own schools.
Leadership and Continuing Professional Development: The network provides leadership and teaching and learning CPD through a series of programmes and bespoke work. Schools belonging to The Trust can access some of these courses and programmes at friends and family costs. Typically this is no cost. Many of the available courses are part of the CPD offer for the Trust which covers leadership development (Developing Middle Leaders and Developing Senior Leaders), teaching and learning (Developing Cover Supervisors, Developing Effective Teaching and Developing Outstanding Teaching). These programmes are available as cross phase or phase specific. The Trust views these as a core offer and entitlement to all of our teaching staff and fundamental to being a member of the Trust. Paul Lawrence, the Trust's Director of Education, liaises with secondary headteachers to ensure this entitlement is taken up as does Chris Jukes, our Primary Executive Leader, with our primary headteachers.
CTSN offer a range of other CPD opportunities which can be found here
In addition, Comberton Village College, on behalf of the Trust and the Teaching School Alliance, runs TSST (developing specialist subject knowledge for non-specialists) programmes for secondary Mathematics, Physics and Spanish. These free programmes support the development of subject and pedagogic knowledge for non-specialist teachers of these subjects. There are also science specific courses, conferences and bespoke support available for all phases through our joint running of the Cambridge and Peterborough Science Learning Partnership. Jo Plumb, an SLE at Cambourne Village College, is working with this organisation as her current SLE remit. For more information please click here.
The Trust also operates a Maths Hub at Cambourne Village College, led by Cordelia Myers, and offering free courses and support for maths teaching across all phases.
There may also be opportunities for the professional development of colleagues through engagement with development delivery of some of these programmes. Both the Trust and CTSN would be open to suggestions of areas of need for CPD that are not currently covered by the offer.
Research and Development: There is support available from CTSN and the Trust for colleagues wishing to develop research into practice. Rachel Hawkes, the Trust Director of International Education and Research, leads Trust research activity and there is an annual Trust research conference to facilitate sharing of research practice and findings. CTSN are engaged in National research projects and are linked to the CamSTar research community based at the Faculty of Education at Cambridge University. CTSN also publish a research blog.
Teacher Training: The CTSN SCITT operates teacher training for primary (based at Histon and Impington Junior School) and secondary phases (based at Comberton Village College). There are a range of programmes, salaried and non-salaried, full-time and flexible. Trust schools can become involved through the offer of placements either salaried, the trainee is a member of staff for a year, with a starting timetable load of 20% which will then increase or non-salaried where they are not employed by the school.
Engagement with the SCITT will provide professional development opportunity for those colleagues taking on mentoring or professional tutor roles. It also offers a potential route for recruitment and "growing your own" teachers. We also work in partnership with the Cambridge Partnership, a further locally based SCITT that gives an alternative approach to teacher training appropriate to some candidates. Martin Lee is the Trust's Director of Teacher Education and takes a strategic lead of the CTSN SCITT.
Excellence For All