Apprenticeships
As an established multi academy trust, The Cam Academy Trust is both a teacher training provider and an employer of school support and teaching staff - so we have a pretty good idea of what school staff need.
We understand the difficulty of juggling work commitments and learning and development [or training] opportunities, but are committed to offering fully funded, flexible training to supercharge new and existing employees' skills.
Whether you are interested in a Level 3 HR Support apprenticeship or the Level 6 Teaching apprenticeship, there are various apprenticeship options available to develop your skills and progress your career.
What is an apprenticeship?
An apprenticeship is an opportunity to work and study at the same time. Most of the time is spent doing on-the-job training, and the rest is spent working towards a qualification. Those on an apprenticeship are paid their normal salary (existing staff) and are given dedicated study time each week - off the job training.
The qualification you can achieve could vary from the equivalent to GCSEs (Level 2), to a master's degree (Level 7) depending on the level of apprenticeship you take. There are different types and levels of apprenticeships. Each apprenticeship level will have different entry requirements.
Have a look at how apprenticeships compare to other qualifications: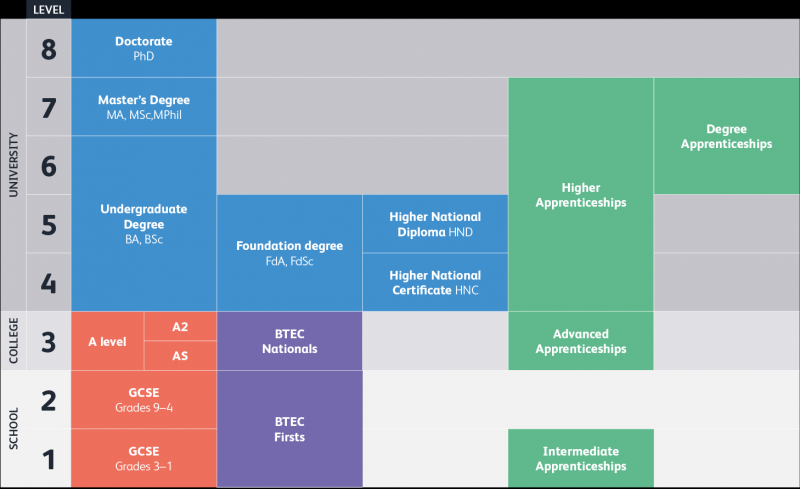 Apprenticeships in England
There are apprenticeships available for thousands of different jobs in a range of industries. From something hands-on like catering, facilities management, early years lead practitioner apprenticeships to a career in teaching, Human Resources and coaching, to name but a few.
Click here for a full list of apprenticeship training courses.
How do I apply for an apprenticeship?
Existing staff should speak with their line manager to discuss the available options before confirming with HR that the training and funding are both available. Your line manager will need to identify a mentor to support your training and ensure that dedicated study time each week (20% off the job training) can be accommodated. A training provider can then be identified, and the employee enrolled on their chosen apprenticeship.
Excellence For All