Strong GCSE results
22nd August 2019
Students from schools that are part of The Cam Academy Trust are celebrating today after receiving their long-awaited GCSE results.
Excellent results in all the government benchmark figures were secured, and some of the highest possible grades were achieved by large numbers of students across the Trust.
Comberton Village College
Almost half of all grades awarded at Comberton Village College were among the highest 9-7 grades, and almost a third of all grades were the very highest 9-8 grades.
The total proportion of students achieving a standard pass in both English and Maths was 83% continuing the impressive results at the college.
Peter Law, Principal of Comberton Village College, said: "We are absolutely delighted to see that very nearly half of all GCSE grades were awarded 9, 8 or 7 – this being equivalent to A*-A in the previous GCSE grading system. For this to be achieved within a fully comprehensive school is truly outstanding."
Cambourne Village College
This strong picture was continued at Cambourne Village College which celebrated its second set of GCSE results this year.
Year-on-year improvements were secured in the key benchmark figures, with almost 71% of students achieving a 9-4 in both English and Maths – a 2% increase on last year's figures. Almost 52% of students achieved a grade 5 or higher in both English and Maths – 6% higher than last year.
Almost a quarter of all students achieved five or more GCSEs with a grade 7 or higher, and seven students achieved 5 passes with the highest grade 9.
69% of all pupils achieved 5 or more GCSE passes including Maths and English at Level 4 or higher – this equates to the former 'C' grade - while 48% of all pupils achieved 5 or more passes at Level 5 or higher, including Maths and English – this is the Government's new 'Good Pass' equating to a B grade in the former GCSE system.
23% of all pupils achieved 5 or more passes at Grade 7 (the former 'A' grade) while 7 pupils each achieved 5 of their passes at Grade 9, an outstanding achievement with these new and very hard GCSE specifications.
"Congratulations are due to all our pupils - and their teachers - who have all worked so hard to achieve these excellent results," said Principal, Claire Coates. "We're delighted that our pupils will be going on to their Post 16 courses with such strong results behind them, and we look forward to hearing about their continued future successes."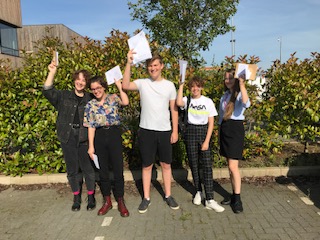 Melbourn Village College
Another strong set of results were celebrated in the south of the county, as Melbourn Village College continued their excellent results, with more top grades being awarded to their students.
More than a quarter (27.5%) of all grades returned with a grade 7 or higher – equivalent to an A or A* grade before the changes to the grading system came into effect.
The government benchmark Progress measure is also expected to be in line with the national average once again.
Almost two-thirds of students (61%) achieved grades 9-4 in both English and Maths.
Simon Holmes, Principal of Melbourn Village College, said: "We are very pleased for all our students who have once again achieved some truly excellent results. The results are the culmination of five years' hard work at secondary school and we wish them all the very best in the future."
A set of twinssecured almost identical results at the college, with both students walking away with 11 of the highest 9-8 grades each, including a further A* in Additional Maths.
St Peter's School, Huntingdon
Students receiving the highest grades has more than tripled compared to last year at St Peter's School. This year, 38 of the highest 9 grades were awarded to students compared to 13 in 2018.
The school is also expecting to see a significant improvement in its Progress measure, the new government benchmark for school performance, when the validated results are published later this year. All core subjects are expected to have performed above the national average, particularly in English and Maths.
Almost 100% of students achieved a Grade 5 or higher in the three science subjects of Biology (97%), Chemistry (97%) and Physics (97%).
The number of students achieving a 'strong pass' (9-5 grade) in both English and Maths has also risen to 40% this year.
Christopher Bennet, Headteacher of St Peter's School, said: "These results clearly show the excellent results that our students supported by our staff can achieve.
"The success of students demonstrates the improvements being made at St Peter's which are supporting our students to attain higher qualifications, giving them greater opportunities for the rest of their lives."
Comment from The Cam Academy Trust:
Stephen Munday, Chief Executive of The Cam Academy Trust, said: "All our schools and their staff should be very proud of the results that have been achieved this year. While the results will be celebrated at each school, they are the product of collaboration between our schools, leaders and teaching staff over the past few years.
"Most importantly, it is pleasing to see that each school is helping our students to progress at or above the national average throughout the region."