Our First 10 Years 2011-2021
We are very proud to say The Cam Academy Trust is 10 years old.
Among the significant disruption and challenges of Covid-19, it would have been easy for such a landmark to go unheralded, but we have so much to look back on.
While we were always confident the Trust would be successful, we had no idea it would grow into a collaborative partnership of 12 schools, spanning early years through to post-16.
There are many moments and developments that have taken place over this decade.
Our CEO Stephen Munday has reflected on our story so far by looking back on some of the Trust's key changes and achievements and considered what these have meant as we move forward.
The formation of the Trust
Stephen said: "The Trust, originally named Comberton Academy Trust, was formed in the early part of 2011. Due to a growing emphasis on academies working together in formal partnerships, the Trust quickly changed to become a multi-academy trust so that more schools could join and work closely with us.
"As this partnership developed it was only right that the name changed with it. Comberton Academy Trust was renamed to 'The Cam Academy Trust' – a clear statement that the Trust is greater than the sum of its parts.
"While many things have grown and changed, our principles and purpose have remained the same. I firmly believe this has been fundamental to our success so far."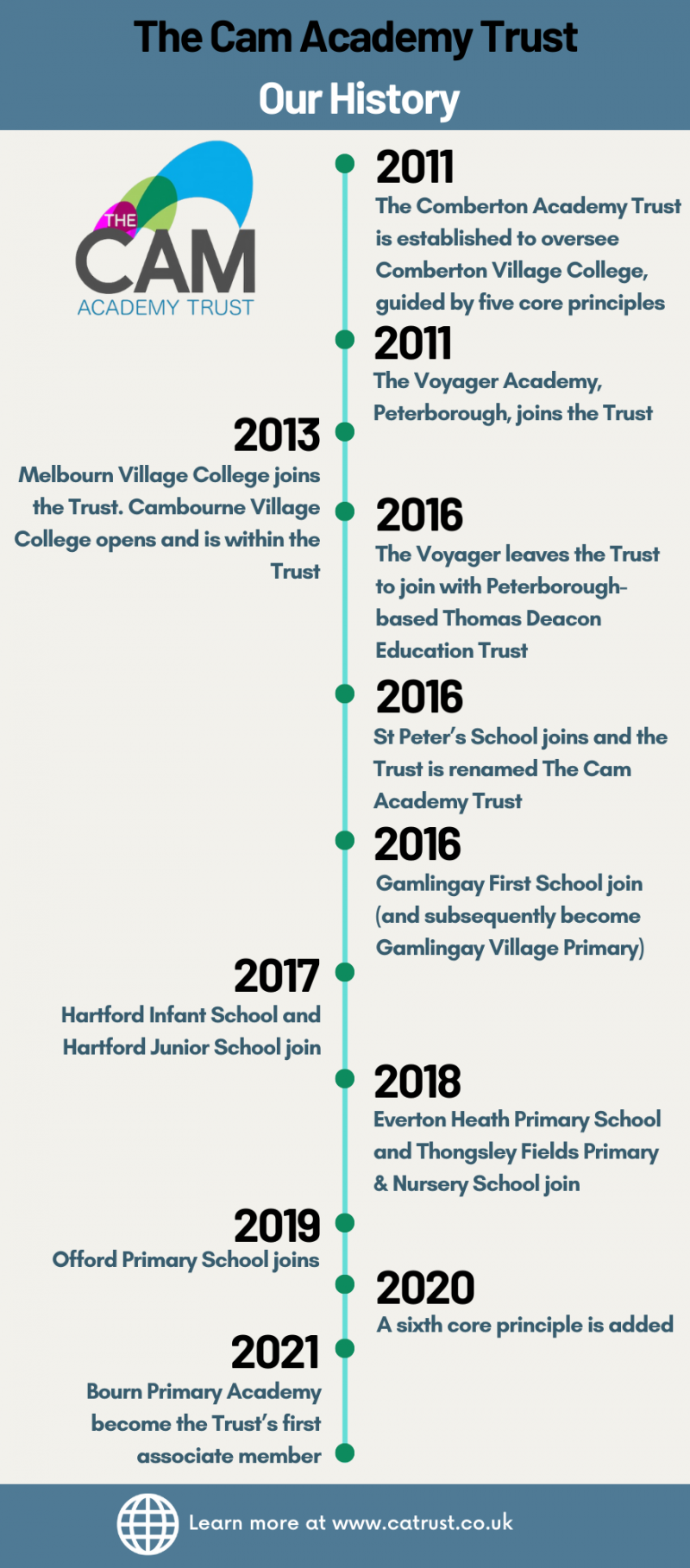 Early stages of growth
As a newly formed MAT, the Trust quickly set about working with other schools – opening one of the first 'free schools' in England at the new community in Cambourne. The Trust was then quickly joined by other secondary schools, including The Voyager Academy in Peterborough, overseeing its sustainable improvement and transition to another local trust. Melbourn Village College and St Peter's School also joined, creating a healthier, richer mix of comprehensive schools that shared in our ethos.
Stephen continued: "We always wanted to be an all-through educational organisation – embodying the cradle to grave village college values. Gamlingay Village Primary started this phase of our story, and I am very proud that we have been joined by six more throughout Huntingdon and South Cambridgeshire areas – Jeavons Wood Primary, Hartford Infants, Hartford Junior, Everton Heath Primary, Thongsley Field Primary and Offord Primary School. Two of these schools have also completed the transformation from a First School to full Primary Schools, as well as establishing dedicated pre-school provision.
"We have also recently broadened our approach to working with the wider education community, offering 'associate membership' to local schools – allowing them to work as part of the Trust, but maintain their own ultimate governance. Bourn Primary Academy has recently taken up this offer."
An all-through educational provision
The Trust also operates dedicated Sixth Form provisions – firstly opening Comberton Sixth Form in response to growing demand in the area. Comberton Sixth Form is now the largest school based Sixth Form in Cambridgeshire. There is also a Sixth Form at St Peter's School in Huntingdon.
Stephen said: "We are also pleased to be opening a further dedicated Sixth Form in Cambourne, again in demand for places, and will work in close partnership with other existing Sixth Forms in the Trust."
It is now possible for a person to have all their education from the age of three-years-old through to 18 in a Cam Academy Trust setting.
Developing successful partnerships
Most importantly, as the educational community of the Trust has grown, so has our partnership working. Three of the Trust's primary schools are seeking to come together as a joint resource unit – realising the opportunities for economies of scale and a better education for all pupils.
Our Sixth Forms have started to develop joint working and courses – considering some of the potential that remote learning can provide better opportunities for students regardless of where they live.
Technological improvements continue to be fundamental to the success of our modern learning environments. Our commitment to IT is clear – our strategy seeks to put a suitable device in the hands of our learners to strengthen teaching and learning for all pupils in our schools. It will also help us to work efficiently and share ideas and resources between staff in different schools.
A core principle of the Trust has always been 'comprehensive education' – wanting our schools to offer an excellent education to young people of all backgrounds and abilities. The development of The Cabin provision has been significant – a model of education that seeks to accommodate people with autism within a mainstream school setting, who might otherwise attend a special school. This provision started at Comberton for a small number of students, but has developed across many schools in the Trust, including a primary school, and now supports more than 100 pupils. This is very much our comprehensive principle in action.
The path ahead
Stephen said: "We can all look back over the last 10 years with great pride at the achievements that have been made in a relatively short space of time. However, we should now turn to the future and consider if that is what can be achieved in our first decade, what does the next decade mean for us?
"Whatever happens, we will be driven by our core educational principles. Policy initiatives and particular educational fads will come and go. The drive to provide excellent education for all in comprehensive settings with a broad curriculum, serving local communities while working in partnership and having a strong international dimension to all that we do will not.
"As long as these core principles remain at the heart of what we do then we have a purpose and a future regardless of the things that will change."
Excellence For All